Project Tracker.Net is an Online Project Office Software Solution
Project Tracker is a 100% Web based Project Office (PMO) software solution that helps your organization's Project Office to manage its portfolio more effectively and reduce costs, by providing tools, reports and functions that simplify the tracking, scheduling and management of work and resources. Organizations can also better manage initiatives using other modular Tracker applications such as Time Reporting.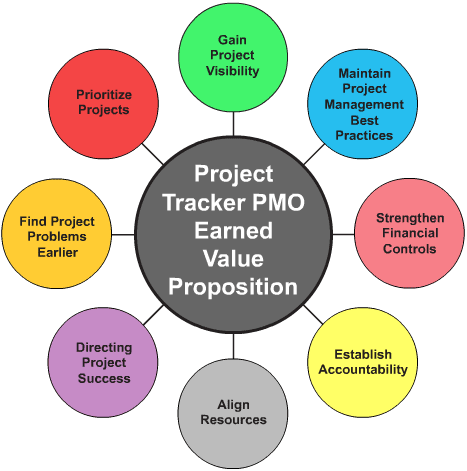 Implementing a PMO solution can increase the number of projects completed on-time and on-budget, and ensure that resources are neither overloaded nor under-utilized within the organization. However, the amount of work this entails places a heavy burden on a Project Office that is relying on spreadsheets to track initiatives and resources. Project Tracker provides a single, online portal for your Project Office, from which it can gather, combine and view the data it needs for true business intelligence.
What sets this solution apart from others is its integration capabilities with email platforms, including Microsoft Outlook, Lotus Notes and Web based email systems such as Gmail. The integration provided by our Web based software offers your strategic PMO unique workflow opportunities as well as improved communication.
The benefits of a PMO utilizing our software include:
Leveraging the visibility of projects to regulate more efficiently.
Complete resource allocation to decrease duplication and save time and money.
Structure and control to help stay on schedule.
Retention of best practices to determine methodologies that are successful.
Instant information and reports that can export to Excel, Power Point and more.
Role based options to provide accountability and security.
Try our Free Online Demo to learn how implementing our solution can instantly help solve your initiatives.
Tracker software offers multiple modular applications that can integrate with each other allowing organizations to select the applications they need to assemble the solutions they want.
Assemble the Solution You Want
Tracker offers an array of integrated Web applications for automating your organization, including software for Project Management, Time Reporting, Expense Reporting, Purchasing, Help Desk Services, CRM, Invoicing, HR, Payment Requests, Asset Management and Business Intelligence reporting. Select the applications you need to assemble the solution you want. The integration of these applications provides unique workflow opportunities, such as converting support tickets into projects or tasks.