Project Office Issue Management
Find and Solve Project Problems Earlier
Project Office Issue Management is simple with Project Tracker's Web-Based Software. Recognize problem areas earlier so time and money are not wasted. A combination of Tracker tools are used to follow what resources are being used and if the effort being put towards projects is paying off. Color coded dashboards give you an at-a-glance view of which projects are on-time (green), which are slowing down (yellow), and which are in danger of not moving forward (red). Status reports can be used to send alerts to necessary team members so that issues are known sooner and can be handled before they begin to slow down projects.
---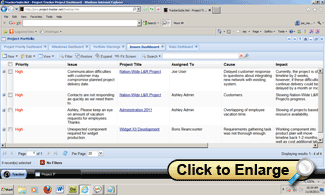 Issue Management Dashboards
Project Tracker provides an issue management application that allows for a full view of all issues occuring in each project. This tool gives you an at a glance view of: the priority of the issue, who the issue has been assigned to, as well as when the issue is expected to be resolved. Right from this dashboard, drill down into the project that the issue is associated with to learn more about the problem. Find out more information from the project profile, including: the description of the issue, the cause, what the impact will be on the project and what actions are being taken to resolve the problem. Documents can be attached to the specific issue to provide more information for those who have permission to view. If the status of the issue changes at any time, a response can be entered and the status can be changed to reflect the update. Simply click the 'notify' button to quickly inform managers of progress.
---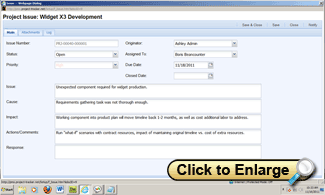 Reporting Project Issues
When a project issue arises, users can profile it in a form where they can describe the problem, its cause, the plans for its resolution and who is responsible for executing that plan, as well as expected resolution date.
---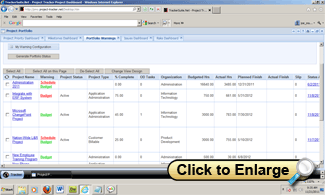 Project Office Dashboards
Color coded dashboards are used to give an at-a-glance view ot the progress of projects and warnings of budget or schedule issues. These dashboards allow you to quickly find out more information on projects that are behind schedule or are declining in health to solve issues as soon as possible.
---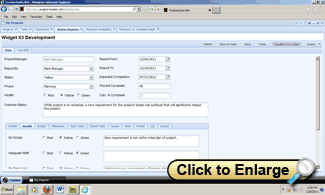 Project Office Status Reporting
Project Status reporting is key in staying up to date on the progress of each project. Status reports can be set to auto-remind team members to complete as often as you would like. You can also configure the template of the status report to include the information that you are most interested in. Logs of each status report are kept right in the project so the information can be found easily. Status reports can be set to automatically email to select people who will be able to read and issue or progress on the projects right from their phone.