Project Office Web Time Reporting
As well as Project Tracker.Net, there is also a Web time reporting module, Time Tracker.Net.
Time Tracker.Net simplifies the time reporting and tracking process. Using Time Tracker.Net, users can charge time to projects in Project Tracker.Net from any location, over the Web. Using pick lists, users can charge time against projects, tasks and activities selected on an individual, group, department or organization wide basis. Users can also copy their last submitted Web timesheet into a new one with a click. Time Tracker.Net integrates with accounting systems, and its automated calculation of staff hours expedites payroll, invoicing and activity reporting.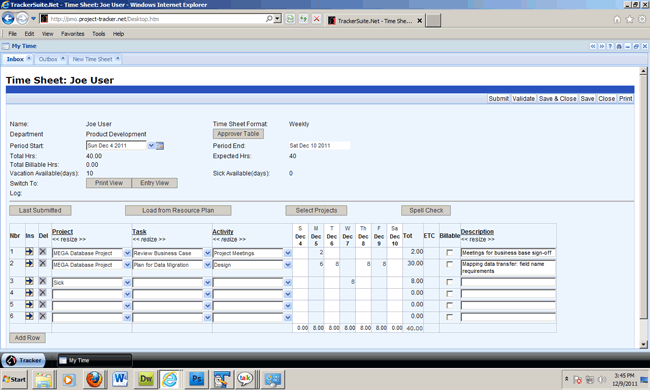 Time Tracker.Net leverages email systems, including Microsoft Outlook and Lotus Notes, to automate time reporting with functions including automatic email reminders for late Web timesheets. Time Tracker.Net can also be configured to send submitted timesheets via email for approval.
Learn more about Time Tracker.Net and Web timesheets.
Time Tracker.Net Features
Web timesheets which users can submit from any location. Integrated with Project Tracker.Net, these serve as true project timesheets.
"Last Saved Timesheet" button allows users to create a new timesheet based on the previous one.
Intuitive "In" and "Out" Box interface for managing timesheets.
Multiple timesheet formats, including Daily, Weekly, Bi-Weekly, Monthly and Semi-Monthly.
Automatic routing of submitted timesheets to designated approvers.
Electronic signatures record all timesheet activity: creation, edits and approvals.
Integrates with accounting systems.
Automatic calculation of staff hours expedites payroll, invoice and activity reporting.
Timesheet templates and validation profiles for each individual ensure that time is being filled out correctly.
Includes the ability to template Web based timesheets on pre-established department profiles.
Rules for individuals may be established, including maximum/minimum work hours and valid project codes.
Configurable columns, formats and messaging.