Project Prioritization Software
Identify Value, Track Progress and Review Costs for Effective Project Portfolio Decisions.
Project Prioritization is an important component of a Web-Based Project Office software solution. Your qualifications of project priority are defined by your company's objectives and goals. TrackerSuite.Net facilitates the prioritization of active projects within your portfolio by providing tools that simplify the review of project status, costs and earned value.
Return on Investment
The calculation of Return on Investment (ROI) compares the cost of a project with the benefits that are expected to be achieved. This is done by assisting your company to efficiently improve processes that are normally overlooked as minor details. With Project Trackers' Web Based Project Office solution automating your workflow process, you will be able to better reduce resources spent on individual projects. This allows productivity to increase because there is more time to allocate to other projects. Status reporting is extremely important for keeping projects on track. We offer optional "auto-nags" that can be sent to necessary personnel to ensure updated status reports are on time and sent to correct managers to keep projects moving forward. Accurately calculating time is necessary when looking to increase your return on investment. Time Tracker, our Time Reporting engine, calculates actual hours while tracking where they were spent down to the task level. Project & Time Tracker also allows you to create account codes to charge time against that can help increase accuracy in determining your capitol vs. non-capitol costs.
Project Selection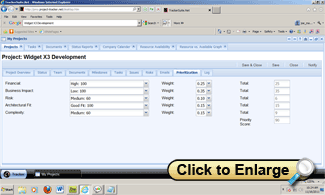 Choosing the right project to prioritize is essential in maintaining a healthy project portfolio. Tracker will help you solve this with our custom fields. These fields will allow you to 'score' projects based on your criteria. Scoring projects will allow you to quickly see which will provide the most value to your company, and ensure that resources are being concentrated in the correct areas. Once projects are selected they can continue through an approval workflow process configured to your needs. This approval process makes sure only approved projects will continue through the pipeline and resources are not being wasted. This also simplifies the process of canceling projects that are not profitable, this can save time, money and resources for future use. After project approval, organizations can then have quality discussions with clients about what is happening with in the projects based on what is: on hold, active, in progress, complete and much more. Our PMO project prioritization software will allow you to place more importance on the effort of the project as well as deploying the correct resources to higher priority projects to help provide a better project success rate. In addition, providing meeting ready presentations of projects is simple with Tracker's PMO software. Just click export to Excel or Powerpoint for a complete explanation of project status.
Prioritize with Color-Coded Project Dashboards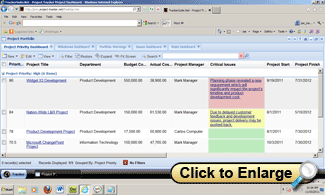 Our color coded dashboards provide a complete view of individual or multiple projects and their health. From this view you can quickly determine the priority of projects based on resource requirements or budget concerns. TrackerSuite.Net dashboards allow your organization to manage its entire portfolio in one central location. Our project prioritization software has a full widget showroom which allows you to configure your dashboard to your individual needs. As well as reviewing status reports within the workspace, you may also have status reports emailed to you directly upon their submission, so that you are alerted as soon as there is progress on a project.