Create and Sustain a Project Management Office Methodology
Automate your Project Office Best Practices and Implement Best Practices more effectively. Our Project Office (PMO) Software is compliant with many proven Best Practice methodologies that organizations incorporate into their processes for project planning and execution process. Best Practice methodologies such as: Earned Value, Six Sigma, Agile, PRINCE/PRINCE2, PMBOK and many more have all been successfully configured into our software to build the best software for your needs. If you have your own process management methodology in place, we are able to build Project Tracker.Net according to your successful solution. Looking to determine a best practice? Let our Tracker team help assemble a solution that will allow your company to create its own PMO Best Practice Solution that will help you manage in the most efficient manner.
Want more information about PMO methodologies and how Project Tracker.Net can meet your needs? Request a Demo today!
---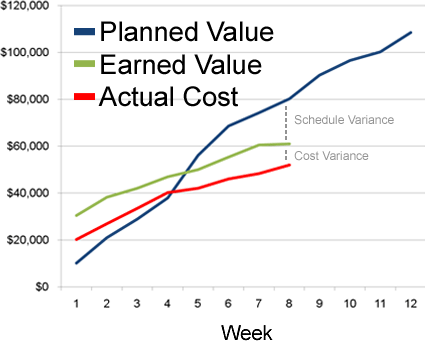 Project Tracker and all Tracker Applications are in Compliance with ANSI/EIA 748's protocol.
Earned Value Project Management (EVPM) has two objectives:
To improve project and organizational efficiencies.
To provide consistent, accurate information on project status.
Project Office realizes these objectives by:
Project Tracker offers templates for the WBS templates required for EVPM.
Project status reports with automated reminders ensure that project activity and status are consistently updated.
Simplified time, expense and purchase reporting via the Web or email client. Automatic approval routing structured in Personnel Tracker, another Tracker Application, ensures legitimate approvals, and because these applications (Time Tracker, Expense Tracker and Purchase Tracker, respectively) integrate with Project Tracker, budgeting accuracy is improved for better reporting.
Tracker Data Warehouse, our reporting application, generates over 40 report templates including budget vs. actual and on-time delivery schedules, reports based on the metrics required for earned value project analysis.
<- back to top
---
Design for Six Sigma (DFSS) is a business-process management methodology related to traditional Six Sigma, with a focus on product development. It has two objectives:
To identify the needs of customers and the business.
To ensure those needs are incorporated in the developed product.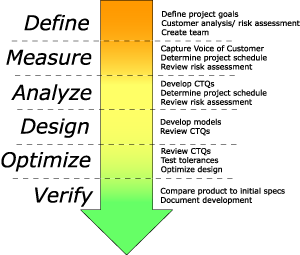 For example, using the DMADOV (Define / Measure / Analyze / Design / Optimize / Verify) flavor of Design for Six Sigma, TrackerSuite.Net offers features including:
Secure document management Project Tracker provides a secure, central location for important materials necessary for each phase of a Design for Six Sigma methodology, such as project scope and risk assessment documents in the Design phase, or scorecards and final analysis documents in the Verification phase.
Project Office provides automated workflow, a development regimen from the initial definition of project objectives and goals to the final product analysis. By providing tools for automatic routing and notification, document security and activity logging, and task management (including task linking and dependencies), streamlining the development of products.
Simple project and resource tracking through the Tracker Data Warehouse, a Web based reporting engine that receives data pushed from all of the Tracker modules. These separate modular applications collect data from the various organizational communities: Personnel, Projects, IT and Financial, and compiles it into the analytical reports necessary to develop projects effectively according to DFSS methodology.
<- back to top
---
The core philosophy that drives Web based Agile project management software, the Agile Manifesto, includes:
Iterative development, focused on swift, continuous flow of useful, well-built deliverables.
Strong, ongoing collaboration and communication among designers and business people.
Adaption to changing circumstances and requirement changes.
The specific features that Project Tracker Project Office Software offers as a Web based Agile project management software solution include:
Product owners and managers can track the activity of their sprint backlog utilizing Resource Availability views to monitor task assignments and workloads from a weekly or monthly view.
Simplifying Agile project management with a flexible Work Breakdown Structure (WBS). Using WBS, which also supports the creation of sub-tasks and dependencies, organizations can easily break down their stories into discrete tasks for fulfillment.
In Project Tracker, any date changes made to a project or task schedules can (at the option of the user), generate an automated email message that can be sent to project team members, managers, stakeholders and sponsors.
This Project Office solution sends automated email notifications to team members to submit status reports and "Auto Nag" reminders for late timesheets, ensuring that team members report on progress and actual time spent on an on-going basis, which in turn facilitates the generation of reports, including burn down charts through the length of each sprint.
Project Tracker provides functions that simplify the sharing of meaningful information, including the ability to email views of their color coded dashboards and transform status reports into PowerPoint presentations.
Providing access to information by serving as a virtual Project Office portal, providing a central, secure location to project files and documents, which users can access from any location via the Web or their email client.
<- back to top
---
Benefits of PRINCE using Tracker:
The PRINCE methodology provides a flexible framework for the management of projects and encourages communication within the workforce community as well as with customers and vendors. Tracker applications lend themselves in a natural way to this methodology. By integrating with email, Tracker applications augment the communication philosophy of PRINCE, with automated reminders and notifications, scheduling and contact management.
<- back to top
---
The PMBOK Guide is process-based. These processes overlap and interact throughout a project or its various phases. Processes are described in terms of:
"Inputs" - such as documents, plans and designs.
"Tools and Techniques" - which are applied to the inputs.
"Outputs" - such as documents and products.
There are 44 processes that PMBOK identifies as common to most projects. These processes fall into 5 basic process groups and 9 knowledge areas. The flexibility of Tracker products allow them to conform to the organization's existing workflows as well as within the guidelines of PMBOK.
<- back to top
---
If you have a different methodology than listed above or have created one of your own we can configue Project Tracker to comply with your already successfully proven standard process. Contact us to see how your current PMO methodology can integrate with Project Tracker and other Tracker Applications to build the most effective best practice.
<- back to top
---
If you are looking for a better way to manage your projects and do not have a best practice methodology currently in place, we can help. Our Tracker team has a long and successful history of creating successful Project management Office Best Practices that have been proven to work. Our configurable software and multiple modular applications allow for a complete solution that can be built around your needs. Contact a sales representative to see how we can assemble a solution for you.
<- back to top