Successful Project Office
Increase Project Office Control
A successful Project Office requires full visibility and consistent communication. The tools provided to you by Project Tracker will give you more than enough information to make quicker and more informed decisions to keep projects moving efficiently. Many common project issues are solved with Project Tracker's Web Based Software that gives you an inclusive look into all of your projects. Easily direct your projects success with real time information that can be monitored anywhere you have an internet connection. Request a demo to see how Project Tracker can help make your Project Office more successful.
---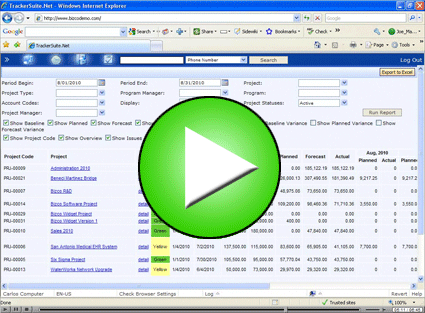 ---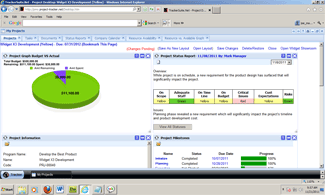 Project Tracker simplifies workflow by:
Providing a role based solution with increased security with a better user experience for all managers and team members.
Establishing a central, secure online location for project information, documents and files that managers and team members can access via the web or within email.
Securing documents with check-in/ check-out functions and version control.
Integrating with email platforms including: Outlook, Lotus Notes and Gmail.
Automated approval routing for time sheets and purchase orders.
<- back to top
---
As well as Workflow, the success of a Project Office depends on access to up-to-date, real time information:
Collaborate in real time from a unified enterprise database with the ability to manage, track, collaborate on projects, help desk services and other work processes.
Manage multiple projects at once and have the information immediately present for other team members and managers to view.
Status updates are ready to view or emailed instantly so managers are kept up to date on important changes and progress. Approve or Disapprove requests from mobile devices and email to help keep projects moving efficiently.
<- back to top
---
Staying in control of projects becomes simple with Project Tracker Project Office Software:
Gain complete views of the progress of each projects with color coded project dashboards.
Instantly know if a project needs more resources or if other projects are using too many resources and wasting time and money.
Required status reports and real time updates provide up to date information on projects. These updates can be set to automatically send to your email inbox to view new progress at any time.
Provides "meeting ready" PowerPoint presentation and excel exporting options so you no longer have to spend important time putting together a project presentation.
<- back to top
---
Improving the delivery of project will help your Project Management Office succeed by:
Monitoring every project easily through color coded dashboards that give you and at-a-glance view of important information regarding your projects.
Making sure the quality of each phase of a project is being upheld to the highest of standards through status reports, issue management, and project time reporting.
Providing Project Office resource management is critical to knowing if you have the correct people with the right skills working on the projects that match those skills. Have the right people in the right place can reduce time spent on projects and improve the delivery.
<- back to top
---
Communication is crucial to completing projects on-time, in-budget and of the highest quality, Project Tracker Project Office Software help successfully increase communication by:
Gaining real time information that allows for every team member to know about updates and changes to reduce redundancies and to avoid extra time or materials being spent unnecessarily.
Requiring Project Office Status reports, which are critical to getting important information about projects to the right people, instantly.
Implementing 'auto-nags' that can be set to send directly to employees emails to remind them to submit time sheets, status reports and other information that keeps managers up to date.
<- back to top
---
Knowing all Project Office objectives provides a platform for a Successful Project Office. When all project team members and personnel are aware of goals and objectives it becomes easier to attain them. Goals and objectives are meant to be shared to ensure that all are working towards a common goal, many times they are not attained because only a select few know about them. Project Tracker is a central Project Office communication tool that lets everyone communicate the intention of each project. If any of these objectives ever change throughout the delivery of the project, status reports can be sent in real time to inform all about the important change to ensure that everyone always stays on the same page.
<- back to top
---
Do you have projects that are more important than others? Each customer is important to each company but most of the time you will have certain projects that need to be completed with higher priority. Project Tracker Project Office Software will help you schedule projects according to priority, size, available personnel, and more. Easy to read Gantt charts can be used to move projects in your schedule accordingly and the changed information can be viewed in real time. Scheduling is simple when you can easily see when other projects are planned and what resources you have available at any given time.
<- back to top
---
Project Tracker is built to provide quick ways to solve important issues that arise during most projects lifecycle. Since Project Tracker integrates with most email platforms it provides for a simple way to email project information and issues with an easy link directly to the project. Successful Project Offices use status reporting to update managers and other personnel about potential problems or how issue have been solved. Project Tracker also provides an issue management dashboard that shows all open issues for each project including: what the issue is, the cause of the issue, what impact the issue will have on the project and the actions being taken to solve this issue. Many companies have best practice methodologies already instilled that have proven to reduce issues in completing projects. Project Tracker can be built to comply with the best practice methodologies you already use to make our software make your Project Office more successful.
<- back to top