Project Office Budgeting and Financial Control for Project Management
Project Management Office financial control is key to helping your projects bring in the most profit. Project Tracker.Net's Project Office solution is a simple way to track where finances are being allocated to provide a complete view of where you are spending your time and money. This project office solution will help you set budgets, determine resource availability as well as providing real time reports on project job costing. Remain in control of all of your projects and complete them on time and in budget with our one-of-a-kind user-friendly software.
Establish Project Job Costing
Project Tracker provides integrated application for project management, purchasing, time and expense reporting that simplifies job costing and forecasting. Project Tracker provides a structured online project environment including budget and billing, milestones, budget, and establishing baselines. This tool provides an inclusive view of how your projects are preforming and what resources they are using. Color coded project dashboards allow for easy to read views of actual vs. budgeted costs.
---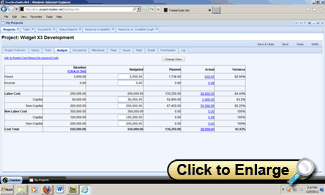 Setting and Tracking Budgets
Setting and tracking budgets for multiple projects is simplified with our Project Office Software. However, not only can you set and monitor budgets from a project level, you can also allocate resources at the task level. Budget sheets are a useful too that can be configured to your business needs, but are typically broken down by: the original or baseline budget, planned budget, forecasted cost, committed costs, as well as the actual costs. These values are also broken down by labor vs. non-labor and capital vs. non-capital costs.
---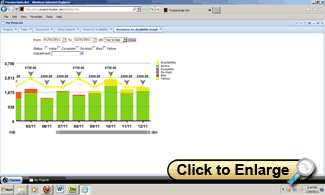 Determining Resource Availability
Easily drill down into projects and the tasks to see where resources are being used and how much you are spending on each area. Track resources using interactive widgets right in your dashboard views. Manage 'at-risk' projects sooner so they do not cost unnecessary money and time. With Project Tracker.Net, you can also simply export to excel and PowerPoint to have a "meeting ready" presentation of almost any view you choose.