Project Office Visibility Increased with:
Dashboards, Drill Down Capabilities, Status Reports, and Gantt Charts.
Project Office Visibility is increased using Project Tracker Software. Dashboards and many other Project Tracker features allow for a complete view of all projects to assist in making more informed decisions, based upon a comprehensive set of capabilities that Project Tracker PMO software provides. Project Tracker is a role-based software which allows administrators and project managers to determine what is accessible to whom. This Web-Based solution simplifies Project Management Office initiatives and helps you succeed. Project Office Dashboards, Drill Down Capabilities, Project Office Status Reporting, and Easy to Use Project Office Gantt Charts will keep you in control of all of you projects to deliver them on time and on budget.
---
Project Office Dashboards
Configurable Project Office Dashboards allow for a complete view of all of your projects to see which are being completed on-time and which are falling behind. Know which resources are being allocated where and if more or less are needed to help projects succeed. Our widget showroom allows you to select which information to be automatically shown when you enter your homepage. Drag and drop these widgets to customize your views.
---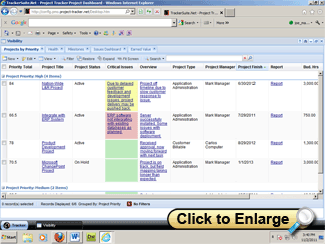 Drill Down Capabilities
Drill down into individual projects, tasks, and graphical charts from Project Dashboards to take a closer look at how projects are progressing. Easily find which projects are in danger of missing their deadlines and quickly find the problem areas to get them back on track. Group by certain views to have side by side comparisons to increase accountability and focus, to ensure completion of projects on time and on budget.
---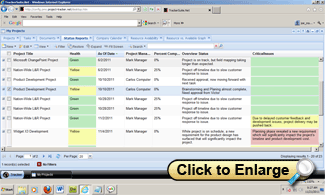 Status Reports and Milestones
Automated reminders can be set to inform team members to update status reports so project managers stay informed about progress of projects . Milestones can be defined individually for each project and automatically generated as tasks that can be viewed in a color-coded snap shot of the project. This unique Project Office/PMO Status Reporting application allows for a complete view of all projects and their progress so project managers can make informed decisions about resource allocation, employee responsibility, and time management.
---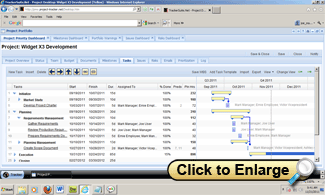 Easy to Use Gantt Charts
Project Office Gantt Charts are an irreplaceable feature that allows for a complete view of the timeline of single or multiple projects. Drag and drop capabilities allow for easy scheduling or re-scheduling to provide project managers with complete control. Ability to identify time spent on tasks, resource usage, and important awareness of problem areas will save time and money spent on each project.